Sheep farm C. Kikkert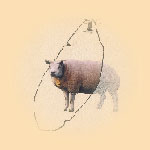 Welcome to the website of the Kikkert family
Drie huizen 15
1791 PK Den Burg
Telephone: (+31) 222 314828
Fax: (+31) 222 314828
E-mail: ceeskikkert@cs.com

Three generations, from father to son, have bred sheep on this farm. The result is a top-class farm which for twenty years now has helped set the tone for the development of the Texel.



Several champion rams with trophies won over the last year, including the 'Bronze Texel', a challenge trophy put up by the local authority.

On thirty acres we keep 200 ewes, including 75 one-year-olds and some 8 breeding ewes, including:

4030-2782: Champion at the Texel breeder's fair and winner of the 'Bronze Texel' (centre of picture)

4030-2850: (pictured right) From a champion group of three ram lambs, also among the best ten on Texel. During the winter, this ram won three champion titles at the most prestigious shows: Delden, Texel, Midden Beemster.

4030-2982: (pictured left) A very modern ram lamb, also from the champion group of three and among the best ten. Has extra length, is well-developed and exudes functionality.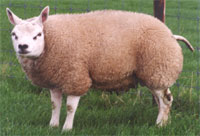 The only ram lamb ever to be registered with A 90, 4030-1660, shows off his good looks. This ram still has a great influence on the farm because of his progeny, most notably his son 4030-1980 pref. This is the eleventh ram of our farm that has been awarded this predicate. Many of his daughters are still active.

Below you will find a picture of the rams shown at the progeny group show which took place on our farm in August 1998.




By joining the weighing programme, we have gained an extra criterion by which to select the fastest growers on our farm. Combined with very productive animals and our desire for optimum functionality, this produces better results and makes our work with Texels more satisfying.




At the most recent National Show in Utrecht, a group of four ram lambs became National champion. And the group of four ewe lambs, which you see here during the tupping season, were named champion among the ewe lambs. The ewe in the middle, 4030-2675, gave birth last spring to a ewe and a ram lamb at the age of one.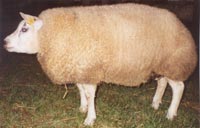 Her son 4030-2974, pictured right, has a littersize index of 111-36 and a growth index of 113-63. His father is 3938-2850.

If you are interested in buying breeding material or wish to use scrapie resistant rams, do contact us at ceeskikkert@cs.com. Of course you can always call us or stop by for a visit. We will gladly show you around our farm.